Source: Restaurant Dive
The 540-unit seafood QSR offers four store models, one of which includes a double drive-thru and another that offers drive-thru and pickup only.
When Captain D's opened its first location in Donelson, Tennessee, in 1969, it had a different menu than it offers today. The restaurant, founded by Ray Danner, Sr., was initially called Mr. D's Seafood and Hamburgers and served fish and burgers. Over the years, it phased out its burgers and in 1974, when it had over a dozen locations, the restaurant changed its name to Captain D's Seafood and focused its menu on fish, shrimp and side dishes.
The company has been franchising since the early 1970s, opening its first franchised restaurant in Atlanta, said Brad Reed, Captain D's chief development officer. Many of the chain's legacy franchisees have been with the brand for over 40 years. In 2010, Phil Greifeld came on board as CEO and president. A year later, the chain, which had over 400 units at the time, began a franchising push.
The company bulked up its training, development, franchise sales and construction teams in order to properly support a growing roster of operators, Reed said. Captain D's requires a minimum of six weeks of training for general managers and a minimum of four weeks for assistant managers to be completed at certified training stores around the U.S. When it opens a new store, trainers will go to new restaurants for a minimum of two weeks, Reed said.
To help find ideal real estate, the company uses its real estate team's expertise as well as analytical data of different demographics to gain an understanding of how well a restaurant will do in a particular region, he said. Prior to site approval, members of Captain D's corporate team will visit the site.
Site selection also depends on the prototype the operator is planning to use. About five years ago, Captain D's developed a new kitchen design, which includes electric fryers that cook 15 to 30 seconds faster than legacy gas fryers, Reed said. The kitchen includes food warming technology and dual makelines, allowing employees to prepare orders more efficiently. It also used analytics to gauge how employees move throughout the kitchen and determine how much closer the refrigerators could be to the fryers and other equipment to decrease footsteps, he said. Using this kitchen design as a base, it developed a 44-seat 2,100-square-foot prototype and a 22-seat 1,700-square-foot prototype.
"[The design] really allowed us more flexibility in determining, when we went into new communities or areas, which prototype best served that particular community," Reed said. "Were they a large dine-in community? Are they more drive-thru driven? So that really helps our potential franchisees determine what is the best use of that property."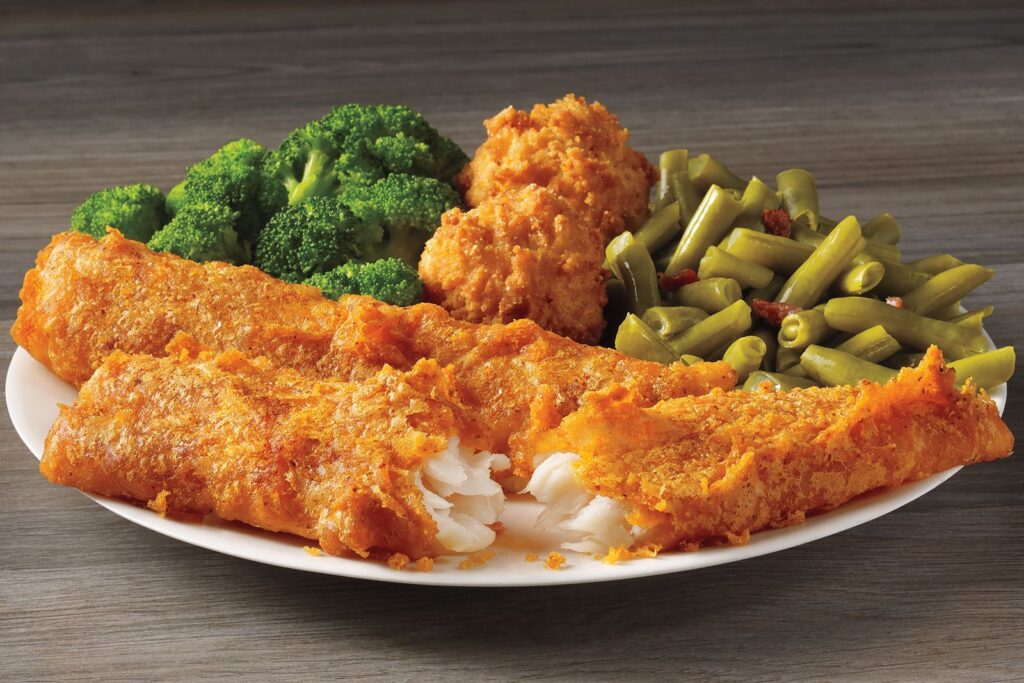 This level of flexibility led the chain to consider an even smaller unit, Captain D's Express, which only offers drive-thru and pickup and is about half the size of the 44-seat store. Corporate was evaluating this model even before the COVID-19 pandemic. The company opened two of these 960-square foot restaurants last year and plans to open another two this year, Reed said.
At the same time, the company looked into enhancing its drive-thrus through double lanes. That meant putting two menu boards outside, allowing two cars to order at once. The results have been "extraordinary," Reed said, leading a restaurant serving as many as 35% more cars daily. Drive-thru times are also a minute and a half faster since teams can prepare two orders at once, Reed said. The company has six double drive-thrus, which will be a focus for new developments where space allows.
Corporate is considering putting staff outside with tablets to take more orders, especially since other chains have been successful with this tactic.
"We are always looking for innovation and the next steps just to make us better and better," Reed said. "If it can improve food quality, if it can improve speed of service or just the general experience for guests, we're always looking for the best ways to do that."
The company has also had a lot of success with conversions. Last year, it flipped Church's Chicken, Burger King, Taco Bell and Bojangles locations, Reed said.
Development plans
Captain D's, which has 540 units across 23 states, aims to reach and surpass 1,000 units in the future, Reed said. It aims to open between 25 and 40 locations annually to reach that goal. The company has been expanding its pipeline with new and legacy franchisees, many of which are growing within the Southeast. One of its largest franchisees in Memphis signed a deal for an additional 10 stores, with two locations slated to open this year. The company is also pushing further into Texas, signing an agreement last year to open 10 stores in the Houston area. That franchisee opened a restaurant in October and plans to open another in June, Reed said. The brand has signed several agreements with franchisees to grow in Dallas, as well.
The company is also pushing further into Florida, Michigan and Ohio and has new developments forthcoming in North Carolina. A new franchisee signed up to develop units in Utah, he said. Captain D's would like to develop in Western states like Colorado, where it has five units, and in New Mexico, where it has one. Those units have been open for 25 years, but these franchisees haven't really expanded within these markets, Reed said. Captain D's would like to eventually enter Arizona, as well.
"We would absolutely love to be in all the states. That is absolutely the goal, but we would like to do that in some methodical approach," Reed said. "That helps us just from a supply and procurement and … logistics standpoint."
Ideal franchisees
While the company has had a lot of success with multi-unit franchisees, it will also consider single-unit operators who have restaurant experience, Reed said. These operators may open one restaurant and then wait three to five years before they open a second unit. The company prefers operators that have established geographical territories. These operators are engaged with their communities and wouldn't have to expand beyond what their management team knows, Reed said.
Franchise quick facts
Net worth: $1 million
Liquidity: $350,000
Franchise fee: $35,000
Royalty fee: 4.5%*
Marketing contribution: 4%
*The royalty fee is waived depending on when a franchisee opens a new restaurant. If the operator opens 60 days early, royalty fees are waived for six months; at 30 days early, fees are waived for five months; at 90 days last, fees are waived for four months; at 150 days late, fees are waived for three months; at over 150 days late, fees will be charged on the opening day of the restaurant.