In a sea of burger and chicken franchises, Captain D's, the nation's leading fast-casual seafood franchise, continues to stand out. We're honored to be ranked #1 in the seafood franchise categoryin the 2020 QSR Top 50 based on our impressive system-wide sales and AUV. QSR takes a look at how the 50 biggest brands in America stack up in performance against each other pre-pandemic and how they're positioned for the long road. Coming in ahead of big brands like Long John Silvers is a testament to our ability to be forward thinking and capitalize on dining trends that translate into big wins that attract smart investors.
Top 15 Fast Food Contenders to Watch in 2020
In addition to ranking 51st, we're also recognized by QSR as one of the Top 15 Contenders to Watch according to our sales, average unit volume and growth from 2019.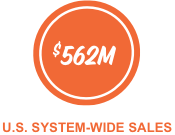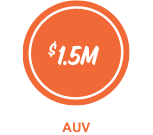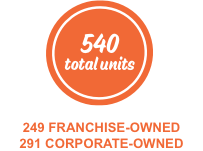 Join a Crew of Forward Thinkers
Even before the COVID-19 pandemic, 70% of our franchise business was drive-thru and carryout. That made offering new flexible build-out options like D's Express, a drive-thru and walkup restaurant concept a no-brainer.
Phil Russo, Vice President of Real Estate for Captain D's, said, "The express layout opened up new markets and new franchisees for us," and noted that fortunately, "it put us that much further ahead compared to everybody else that was trying to develop during the pandemic."
Smart investors know that now is a good time to take advantage of macro-market conditions with a smaller footprint model that saves start-up costs and gets the location you want. And our low-cost, high-quality seafood menu stands out in a sea of pizza and burger options, making it a great portfolio catch to complement your other investments.
Growing Full Steam Ahead
With 540 locations in 23 states, we have no intention of slowing down. Our fresh, delicious seafood, loyal customers and commitment to innovation fuel our success no matter the market conditions. "We are in a good position going forward because we have a lot of flexibility with our designs," added Russo. And, with over 50% of our restaurants being corporately owned, we are as invested in success as our Franchise Owners.
Ready to Take the Next Step?
We're looking for multi-unit Franchise Owners who want to diversify portfolios in our wave of expansion. Just fill out the form, and a member of our Franchise Development Team will be in touch.