As the nation's leading fast-casual seafood restaurant, Captain D's is in a category of one, serving up a tasty menu of freshly prepared entrees and the company's signature batter dipped fish. Captain D's also offers top restaurant franchise opportunities with market-smart prototypes that give Franchise Owners the most flexibility for the best ROI. The new Express prototype takes this strategy to the next level.
Small Footprint, Reduced Start-Up Costs
On October 10, 2022, Captain D's announced the opening of its first company-owned Express model in the Columbus, Ohio market. The Express prototype is the second of its kind in market— the first of which opened in Atlanta in August.
What makes the Express prototype a standout with franchisees and customers? Its footprint is a mere 960 sq. ft. on as little as .35 acres, with a drive-thru and walk-up window, and no dining room. The newly designed kitchen makes for quicker cook times and faster drive-thru-times, for more customers served in a shorter timeframe. Guests enjoy Captain D's core menu items such as batter-dipped fish, chicken, catfish, and shrimp, but the menu is streamlined to help with speed of drive-thru and pickup orders.
The Express prototype is easier on the budget. Because of its compact footprint of 960 sq. ft., Express models can reduce start-up costs for franchisees by as much as 25%. A smaller footprint also means a reduced workforce of 20–25 staff members rather than the typical 40–45 people.
Says Brad Reed, Chief Development Officer of Captain D's, "Smaller footprints are at the forefront of growth now. Off-premise has always been a big part of our business, and that has only grown stronger. New and existing franchisees are attracted to the lower costs and the ability to develop in population-dense metropolitan areas with higher levels of foot traffic."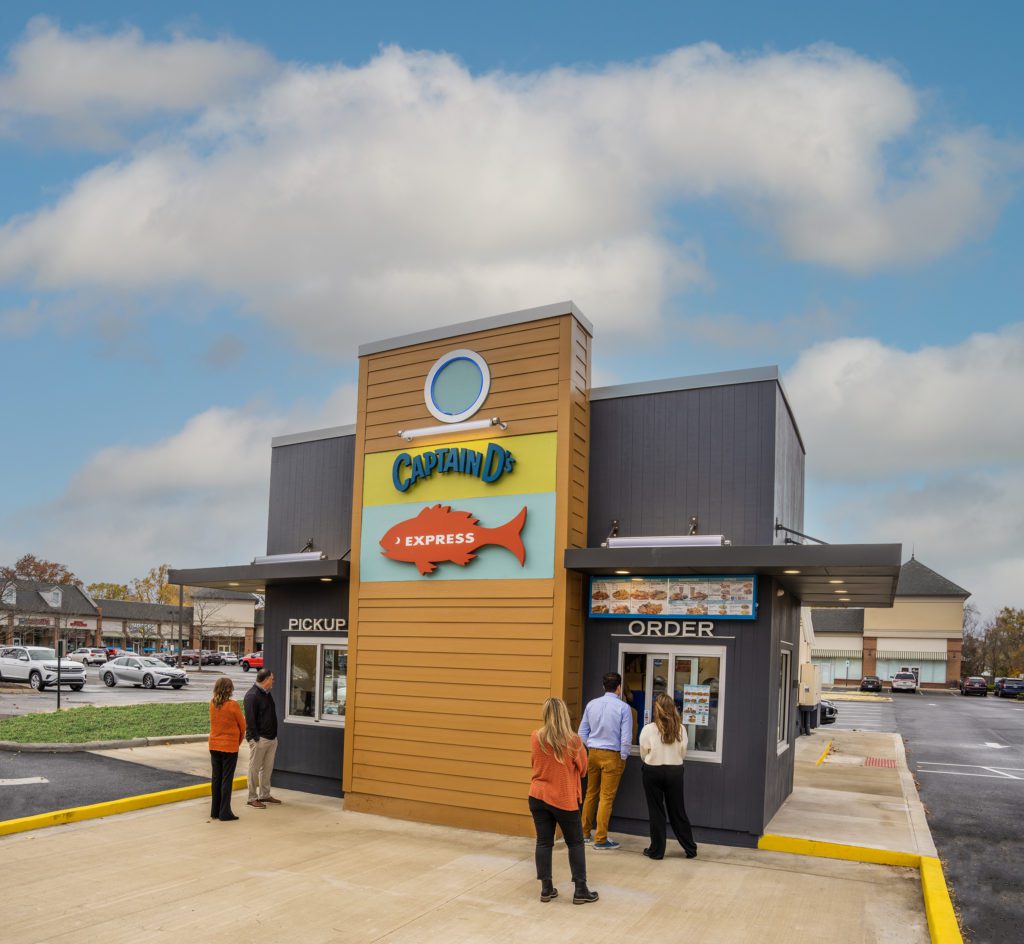 The best QSR franchise around brings a whole lot to the franchisee table
Innovative flexible prototypes such as the Express prototype are just part of Captain D's attraction to Franchise Owners. The company provides continual support to franchisees, with 68 restaurant operators on the training team, that is dedicated to setting owners up for success by offering training and ongoing support. In addition, Captain D's is expert at converting existing restaurants to new Captain D's locations.
Convert to success quickly
We can help you launch quickly, especially if you have an existing property. Did you know that on average, conversions open 30 days faster than new builds? Captain D's conversion team can transform existing efficiencies into a thriving seafood QSR franchise.
If you're ready to set sail with the #1 seafood chain in the QSR 50, ranked by AUV—and expand your portfolio—complete the lead form below to get in touch with our franchise development team.